Nonstandard.ie goes live!
Ireland's first non standard insurance website is now live. Ok that's great, but what do we do??
At Nonstandard.ie we help clients that don't fit into a neat insurance category.
There are a lot of options for 35 year old teachers, driving a Nissan Micra – but what about drivers that have had a previous motoring or non motoring conviction, high CC car or have had a number of previous claims? Or what about property owners that have an unoccupied house or non standard property, have been refused renewal or live in a flood area?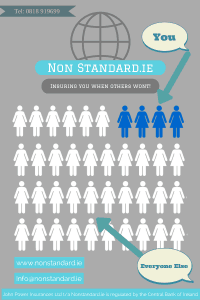 This is where we can help. We deal with a number of specialist insurers that acknowledge that one size does
not fit all for insurance. In the majority of cases we can obtain terms for non standard risks as well as offering advice on the best available cover.
Nonstandard.ie – Helping to insure you when others won't!
Contact us today on 0818919699 or request a call back here to see how we can help.